Drupalcon Dublin Observations From a Non-dev Perspective
Image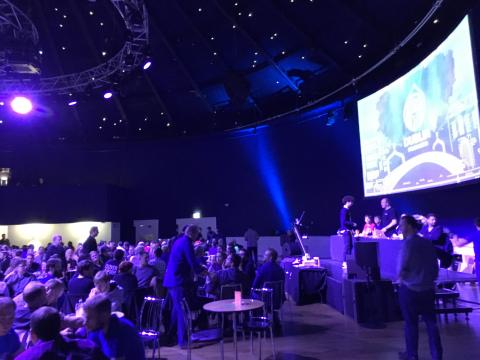 Great people, great tech scene, great arts, great architecture.... and a serious food scene if you're a human who likes eating.
I wasn't sure exactly what to expect when going to my first Drupalcon outside of North America. I was rewarded with a great experience and came away, as one does at these things, with great ideas, inspiration and friendships. One thing that I thought was particularly cool is that some of the developers who attended did so on their own dime using it as a vacation.  It says a lot about the community that people invest their personal time and effort into "the cause" and I also think it speaks well of Drupalcons and how well they are run and organized. 
Warning, I will be doing a bit of (company) name dropping in this post to recognize some people and organizations for doing an exceptional job in some way, shape, form or fashion.
Part of what I was looking to do was to establish relationships with local development companies in countries where clients of ours have a presence and also to increase our involvement in the global Drupal Community.
Being on the Operations/Business Development side of our business I was particularly interested in the Business Summit and presentations of that nature. The Business Summit was great in that it was well run and real conversations took place. Exchanging ideas and solutions are what Business Summits usually work to accomplish and I felt like this one was no exception.  Thanks to Myles and Emma Jane for facilitating a great Business Summit, nicely done!
One thing that sticks out to me more than any other conference I attend, Drupalcon's are so much more collaborative in nature. The "Open Source" ethos is pervasive and people seem to genuinely be interested in help each other. A front end dev from Lullabot told a story of when he worked with another developer from Mediacurrent on solving some problems at a sprint during a Drupalcon and how both of them freely shared ideas and information knowing that it would help the Drupal community as a whole and their individual organizations.  
My favorite presentation of the week was from Jann, CEO of Adyax.  Jann talked about growing your Digital Agency and gave concrete examples of what has worked and what hasn't worked.  He gave examples of best practices that validated what we are seeing in our markets, chief among them is that clients need to invest as much money as they possible can on the QA portion of the process while focusing on KPI's that make for the best development experience possible. 
As for the relationship building that I was looking for, you couldn't ask for much better surroundings than the gorgeous city of Dublin.  If you haven't ever been, go.  Right now.  Airbnb's were easy to come by close to the Grand Canal Quay (pronounced Key because Ireland) and the food was fantastic.  One Pico, Boxty and Klaw were favorites and delivered cool dining experiences.  It took me a while to get used to the pacing of dinner and pub service.  But, when I learned to relax and enjoy the company at any place we went with new friends and old alike, the experience got better.  There is something to be said for taking the time to enjoy life.  
From a business standpoint my key takeaways are that the Drupal community is thriving and innovating and we are seeing significant growth in the Drupal portion of the overall web development and digital product development market. We are seeing Sitecore and Adobe sites migrating to Drupal in local US markets and seeing the overall picture for Drupal as very optimistic in terms of growth and outlook. 
A final note; If you haven't attended a Druplacon please note that people are very serious about Trivia Night. If you are reading this because you missed the event or because you are preparing for next year my advice is this: start preparing now for trivia night in Baltimore or Vienna whichever you are attending next.